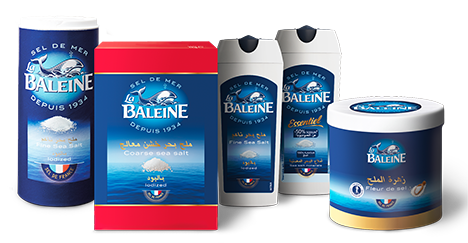 La Baleine
La Baleine, the intense taste of sea salt.
The story of La Baleine is a story of nature, families and traditional know-how. Since 1934, La Baleine has been a household name in French sea salt and the brand continues to reinvent itself to become the sea salt of choice all over the world. La Baleine sea salt is a 100% marine origin salt, crystallized thanks to the sun, sea and wind. Harvested on the sandy bottoms of the Mediterranean Sea, La Baleine sea salt is guaranteed unrefined and is naturally white.
In the kitchen or directly on the table, this unique intense-tasting salt will enhance all the flavors. Additionally La Baleine is harvested in a protected UNESCO site which creates a wild land where more than 200 bird species are preserved. This balanced ecosystem guarantees the higher quality of La Baleine sea salt.